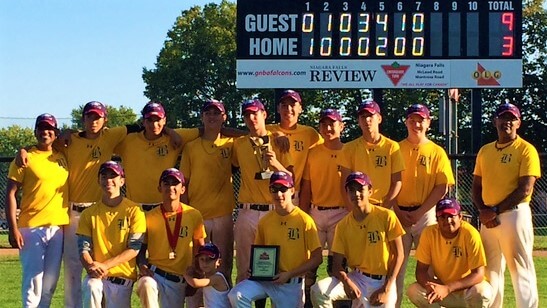 Bloordale Baseball's Minor Midget AA Rep team has been crowned provincial champions for 2016.
The team travelled to Niagara Falls on Labour Day weekend to take on the best Ontario has to offer and emerged victorious with a 6-1 record.
"We have been working to this all year," says Head Coach Naeem Siddiq. "The team really came together and showed a lot of heart."
Bloordale proved to be the team to beat as they bested Scarborough 18-3, Muskoka 6-2, Newmarket 9-8, Niagara 9-7 before finally losing their first game to Kawartha 6-1.
The team bounced back from the loss and came on strong in the championship game, emerging victorious in the end by a final count of 9-3
Game MVP's were Kaio Ryan, Simon Ball, Zack Bayfield, Chris Firmani, Dimitri Zembal and Danyel Siddiq.
Tournament MVP was Chris Firmani
The team includes: Kaio Ryan, Cyrus Kootar, Simon Ball, Dimitri Zembal, Zach Bayfield, Chris Firmani, Jakub Zembal, Alec Denham, Andrew Catton, Danyel Siddiq, Henry Ball, Adam Bonello, John Meteinzo, Rohinder Gurzder and coaches Naeem Siddiq, Sunny Patel, and John Ferracutti Sr.
The team went 22-15 over the season, tying for first place in Toronto after the regular season and then winning the City Championships that qualified them for the Provincials.