Bloordale's Rookie Select Green team has earned a spot in the record books after being crowned Ontario Champions on Labour Day, capping a 42-5-1 dream season.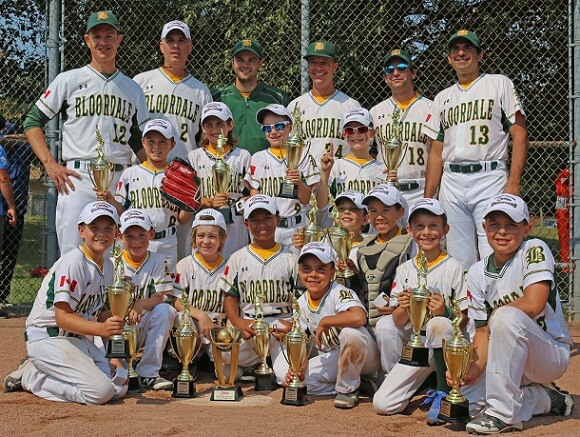 Twelve of the best Rookie Ball teams converged in Etobicoke for the provincial championship tournament hosted by Royal York. The Bombers dominated during the double elimination tournament, going 5-1 during early round games.
In a key must-win semi-final game under the lights at Rotary Park, Bloordale topped Erindale (the team which had beat the Bombers earlier in the day) to move on to the exciting all-Etobicoke championship against tournament host Royal York.
The Bombers' bats and strong defense proved to be too much for the cross-town rival Cardinals as Bloordale emerged on top after 7 innings of exciting play.
It was a fitting end to a magical dream season for the team, which started the championship drive working out in a south Etobicoke school gym in January.
By the end of the season, the Rookies played 20 league games with a record of 18 wins and 2 losses; 5 tournaments – Mississauga in May, Simcoe in June, Etobicoke Lloyd McConnie and Innisfil in July, and the OBA's this weekend. Total games played in the 5 tournaments was 28 24 – 3 – 1 record. In 48 games, the Bomber Bats resulted in 823 runs while the tight defense only gave up 281. On average, the team out-scored opponents by 11 runs a game.
The team includes: (front Row L-R): Jack Hannan, Jack Wright, Matthew Benevides, Oscar Leah, Matthew Castellarin, Cole Ryder, Declan Martini-Wong, Wyatt Moore, Harris Pangretitsch. Second Row, L-R: Andrew Switt, Nathan Thomas, Scott Smith, Ryan McIntosh. Back Row L-R Coaches: Steve McIntosh, Iain Hannan, Rob MacKay, Tim Ryder, Stephen Smith, Neville Thomas.