Bloordale's Minor Mosquito AA went 6-0 to win the Mississauga North Baseball Tournament this past weekend.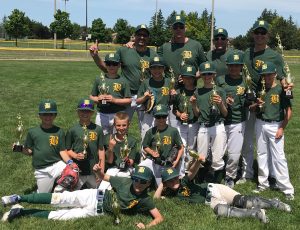 Starting off slow on Friday night, down 7-1 after the first inning to a strong team from Burlington, the Bloordale bats came alive in the second inning to never look back, winning the game 18-13. Our offensive dominance continued with strong hitting along with solid pitching to carry us through the next 2 games, beating Mississauga South 24-10 and North York in a close match, 12-11.
Despite going 3-0 in round robin play, strong competition and the numbers game, the squad finished third forcing them into a quarter final game on Saturday night. Once again strong bats pushed the team to an 18-4 win over East York.
The semi final game was agianst Halton Hills Eagles, which finished the round-robin in first place with a run differential of 47. Bloordale pitchers didn't back down and supported by strong defence, the Bombers came out on top 11-6.
The final game on Sunday afternoon was against cross-town rivals, the Royal York Cardinals. The Bombers gave up only 2 runs in the game, and with solid hitting captured the championship title 12-2.
Over the tournament, the Bomber offense produced 95 runs while the defence and commanding pitching yielded only 36. Every Bomber contributed over the weekend, and the coaches were impressed with their constant focus and determination.
Team members include:  Jack Hannan, Nathan Thomas, Gavin Marshall, Ryan McIntosh, Harris Pangretitsch, Luca Berardeau, Andrew Switt, Luke OIynick, Nathan McNeil, Aaron James, Scott Smith, Matthew Benevides. Coaches Neville Thomas, Iain Hannan, Scott Smith, Steve McIntosh