Bloordale Baseball has an active Select and Rep team program across all divisions, with a number of Etobicoke, Toronto and Ontario championships to our name. A sampling of our past five years of success include: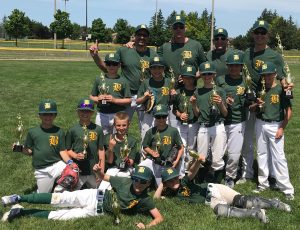 2018 Toronto Champions – Rookie Select, Min Mosquito AA, Min Midget AA
2018 Toronto Finalists – Maj Mosquito A, Maj Peewee A
2017 Ontario Champions: Rookie Select
2017 Toronto Champions: Rookie Select, Min Peewee A, Maj Bantam A, Maj Bantam AA, Min Midget A
2017 Toronto Finalists: Min Mosquito A
2016 Toronto Champions: Min Midget AA, Maj Bantam AA, Min Bantam AA
2016 Toronto Finalists: Maj Mosquito A, Rookieball Select
2015 Ontario Finalists: Bantam Select
2014 Ontario Champions: Rookieball Select
2014 Toronto Finalists: Mosquito Select, Peewee Select, Min Mosquito AA, Maj Mosquito AA
Tryouts for Bloordale's Select and Rep team programs are held every September for the following year's team. (The tryout schedule is posted on the Bloordale website on or before Labour Day each year). Playing on Select or Rep team comes with an increased commitment from both players and families during both the off-season and during the traditional baseball season.
The following is a high-level summary of the two programs. Individual teams may differ slightly.
SELECT:
Indoor training: once a week Jan-April (local facility rented by the league)
Outdoor Practice: May-Jun once a week (some weeks may be two depending)
Outdoor Practice: July-Aug twice a week
Select Games: May-Aug one game a week on predetermined day. Away games in Etobicoke and east to Christie Pit area
House League: select players (rookie, mosquito, peewee) also play house, two games a week May and June on the regularly scheduled days/nights
Tournaments: average three tournaments (two local one away) – one in June, Two in July (on average)
Playoff tournament (Etobicoke-based): Second or Third Weekend in August
Provincials (if qualify): Labour Day weekend (travel)
Cost: $950-1200 (depending on uniform swag/needs). Away tournament travel/hotel/food costs extra.
Budget: set by Coaching Staff, submitted to league for oversight
REP
Indoor training: once/twice a week Nov-April (private baseball training facility, local school gym rental)
Outdoor Practice: May-Aug once/twice a week
Rep Games:

May-Aug Two games (minimum), home and away.
Home games are the same night.
Away games can be any day of the week. Away games across Toronto (Scarb, North York, East York, Leaside, High Park, Christie Pits) and York/Simcoe Region (Barrie, Bolton, Newmarket, Markham, Vaughan, Georgina)

No House League play is required
Tournaments: average five tournaments (combination local and travel) – 2 in May, 1 June, 2 July. Most are travel/away tournaments. (schedule determined by your coach in consultation with family group)
Playoff tournament (Toronto-based): Second or Third Weekend in August
Provincials (if qualify): Labour Day weekend (travel)
Cost: $1200-1500 (depending on uniform swag/ tournaments / additional training). Away tournament travel/hotel/food costs extra.
Budget: set by Coaching Staff, submitted to league for oversight
Should you have any questions about Bloordale's Rep or Select team programs, please email [email protected] or [email protected]