Happy Birthday Bloordale Baseball. For a 50 year old, you have never looked so good.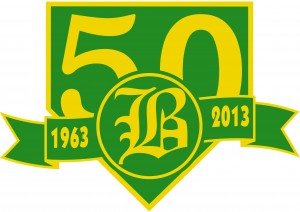 Yes, you read that correctly. This season marks the 50th consecutive year Bloordale has been delivering a quality, community-based, co-ed baseball program. And we have some great things planned that will be rolling out in the coming months.
But for starters, if you are a Bloordale alumni or a parent of an alumni, we want to hear from you. We are sure there are many memories of playing or cheering on Bloordale and some equally interesting stories that we would like to share with our Baseball Family as we walk through half a century of history.
Now is a great time to reconnect with the league and join in our celebrations. Email your stories, thoughts or congratulations to [email protected]. Like us on Facebook. Follow us on Twitter @Bloordale. And check into our website www.bloordalebaseball.com in the coming months for updates.
If you have ever thought about sponsoring a team, this year might be the time. If you are in contact with old friends from Bloordale, why not honour your year by branding a team with your Alumni year.
For more information about this and other sponsorship opportunities, email  [email protected]. But don't delay because the season is just around the corner and we
need to get our uniforms made.
Speaking of uniforms, all Bloordale players this year will receive special 50th anniversary hats and jerseys. Our Select and Rep teams will also be sporting a one-year only retro throw back uniform. Watch for them.
We are also producing 50th Anniversary fan-wear. Specially-designed, limited edition retro style hoodies and t-shirts are now on sale. To make sure you get one of these great keepsakes, drop us a note and we will be sure to set one aside for you.
_______________________________
As part of our 50th anniversary celebrations, the Peewee Selects hosted a two-game friendly with the Pelham Panthers. CLICK HERE FOR DETAILS